Credit: Cardiff City FC

One of Cardiff City's most successful players, Aaron Ramsey, has made a sensational return to the club from French team OGC Nice.
The Wales captain, 32, became the Bluebirds' youngest ever player in April 2007, making his First Team debut aged just 16 years and 123 days – a record that still stands to this day.
A three-time FA Cup winner, Ramsey has now re-joined Cardiff for his third spell, having played from 2006-2008 and then returning on loan from Arsenal in February 2011.
With over 500 career appearances, Aaron now returns to his boyhood team on a two-year contact, after competing at the highest levels of world football for over a decade, most of that being at Arsenal from 2008-2019 and Juventus (2019-2022).
For Wales, Ramsey, born in Caerphilly, has made a total of 83 appearances, scoring an impressive 20 goals during that time.
Over time, he has made a name for himself as being one of the best-ever Welsh players, having been a crucial member of the team which reached the Semi-Finals of UEFA EURO 2016 in France.
After putting pen-to-paper, Ramsey, who'll be wearing the number 10 shirt, explained:
"To be back with my family and around familiar faces is just brilliant, so I'm delighted to be back here now. I've missed that a lot in the last year or so, so it was important for me to be back around them.

"Obviously I'm a Cardiff City fan, and watching them over the years since I've been away, we've had some low points but some big highs as well, being in the Premier League and representing Cardiff on the big stage. That's a target of mine - to try and help my teammates and this club to get back to the top."
Manager Erol Bulut, who was appointed at the start of last month, said:
"Aaron started here, and now he is back to help us to achieve our targets.

"Aaron has had a great career. In the Premier League, then Italy and France, and now back home in Cardiff. I hope his last years with us will be great too, and I hope we can make our dreams come true."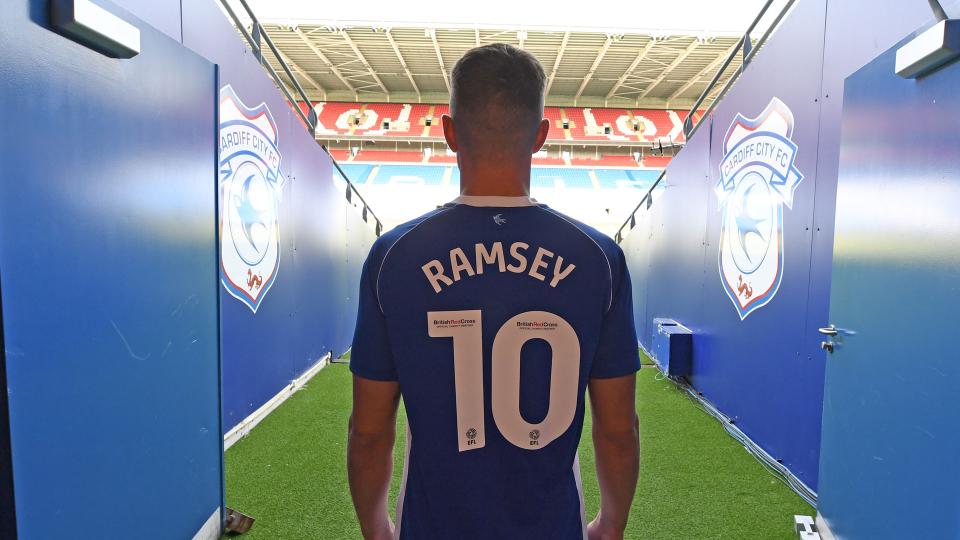 Ramsey will be playing in the coveted no.10 shirt - Credit: Cardiff City FC
In an interview with Cardiff City TV released today, Ramsey expressed his desire for achieving at the Bluebirds, saying:
"I feel like I'm still capable of producing performances and things like that, so for me it was no better time than to come back and to try and help Cardiff now to get on and progress again."
Sonny Ramsey, Aaron's oldest son, has also signed for Cardiff, and will now play for the club's academy.
Comment your thoughts below