Credit: Laura Edwards
A much-loved ramen restaurant in Cardiff has teamed up with renowned MasterChef champion, cookbook author and Japanese food authority Tim Anderson to launch two limited-edition make-at-home kits.
Matsudai Ramen, on Clare Road in Grangetown, has delivered tens of thousands of ramen kits to every corner of the UK since it was first founded as a pop-up in 2019, receiving praise from culinary heavyweights such as Tom Parker Bowles, Melissa Thompson, Andi Oliver and Jay Rayner.
This will be the second time that Matsudai founder James Chant has collaborated with Tim, after they joined forces last year to launch a limited edition curry goat ramen kit, which sold out in less than 48 hours. Profits from the sale of the kits were split between two mental health charities and raised more than £3,800.
As part of the collaboration, in November, fans will be able to enjoy two versions of a spicy Hokkaido curry ramen which they can purchase on the restaurant's website:
SPICY HOKKAIDO CURRY RAMEN KIT (£15.99) - Creamy chicken, pork and seafood paitan soup with curry-miso tare and mala mix; aromatic lard; thick, wavy noodles; pork shoulder chashu; wakame; and spring onions.
VEGAN SPICY MISO CURRY RAMEN KIT (£14.99) - Vegan dashi with curry-miso tare +andmala mix; aromatic oil; thick, wavy noodles; organic tofu chashu; wakame; and spring onions.
James Chant, Founder of Matsudai, said:
"Both Tim and I love Japanese curry (and curry ramen) so this was a no brainer. Tim gave me some help with our Matsudai Chippy Lane ramen kit last year, and we've been chatting about collaborating again since then, so we're thrilled to be bringing those ideas to life with these kits."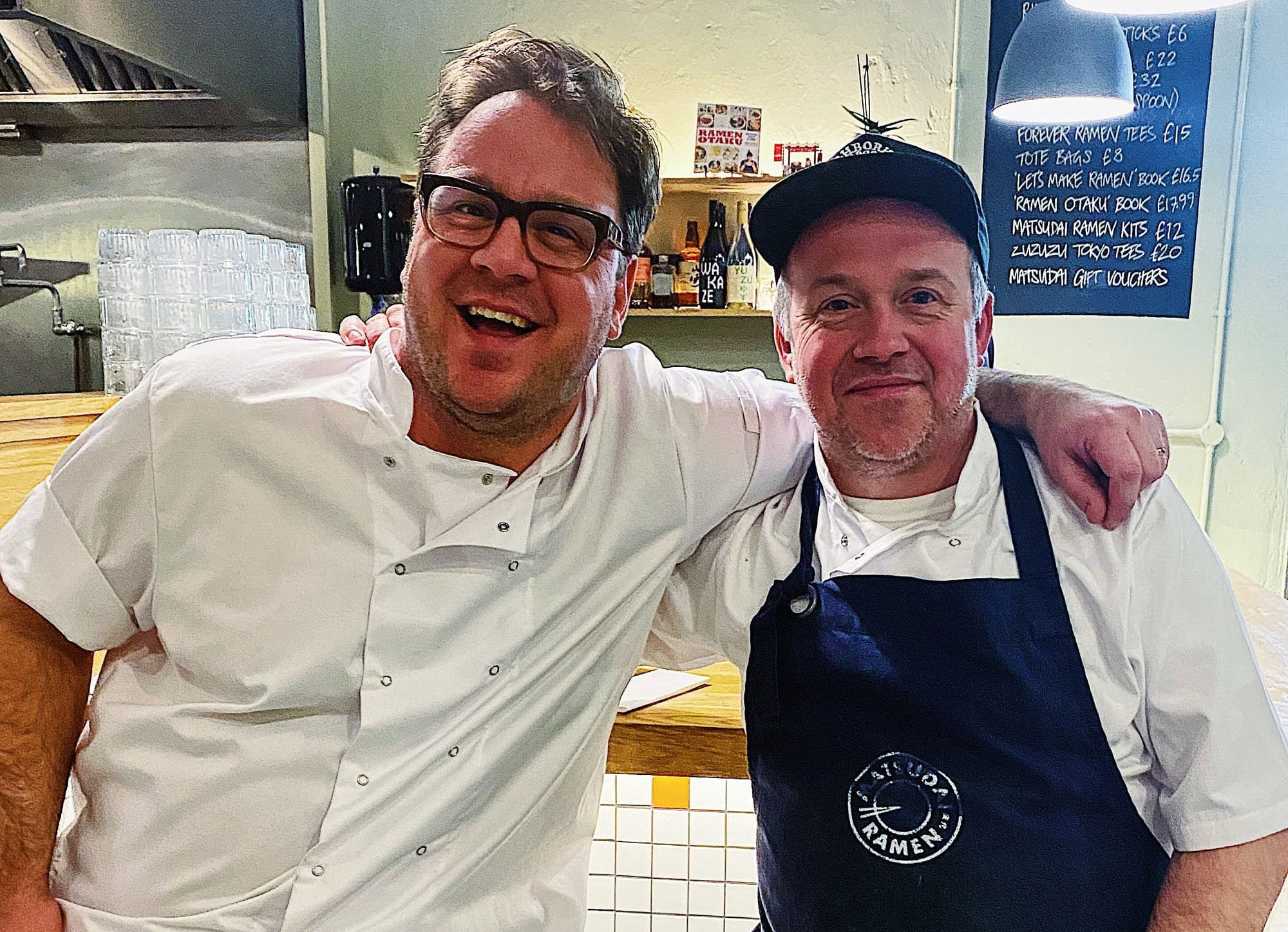 Chef Tim Anderson (left) alongside founder of Matsudai Ramen, James Chant (right)
Alongside this, throughout the month of December, Matsudai will be whipping up a festive 'Christmas ramen' complete with confit turkey leg and succulent turkey breast with crispy shallots and pickled cranberries:
TURKEY PAITAN RAMEN KIT (£16.99) - Creamy chicken and turkey paitan soup; shio-shoyu hybrid tare; custom thick wavy noodles; turkey oil; confit turkey leg; sous vide turkey breast; crispy shallots; and pickled cranberries.
Tim, who won MasterChef in 2011, explained:
"Turkey has a bad rap in the UK, but if you cook it properly, it is a delicious, succulent, flavourful bird - which also makes a really great ramen!"
All three kits will be available for UK-wide delivery, and profits from the sales will once again be split between two charities - Oasis Cardiff and Praxis - who both work to provide support for migrants and refugees.
Tim added:
"I've been obsessed with ramen for 20 years, and I've been making it for roughly half of those years. My new book, Ramen Forever, is an attempt to document what I've learned along the way. Learning about ramen is a journey that never, ever ends and I'm happy to continue that journey alongside Matsudai, who have made all of us in the UK up our ramen game!"
Finally, on 16th and 17th January next year, the collaboration between the two will continue with two supperclub dates at Matsudai's restaurant.
Comment your thoughts below