Cardiff Council Cabinet members will hold a meeting next week, where plans to accelerate the completion of the city's International Sports Village will take a step forward.
Following the acquisition of all undeveloped land at the sports village, the Cabinet agreed in principle to enter into an option agreement with Cardiff Peninsula Consortium Ltd last December.
Now, work to develop the legal agreements has now been completed and the council will be asked to sign them off.
The plans for the ISV will boast a new Central Performance Hub designed to support athletes across different sports, a new Velodrome, a closed loop circuit, outdoor leisure facilities, and a 'clip and climb' facility - all brought to Cardiff Bay with a brand-new park and ride facility.
All of this will complement the International Pool, White Water Rafting Centre, and Ice Arena, all of which are already on site.
A report published ahead of the meeting, taking place on Wednesday, 13th July at 2pm, also revealed further details about the energy strategy for the site, which subject to successful funding applications, could see a low carbon heat exchange developed to link the International Pool and the Ice Arena.
This strategy would see the swimming pools being warmed-up using heat created in the process of making ice for the arena.
The report has identified a list of 'next steps' which would look to progress the village's development, including:
Completing an agreement with the approved developer this summer to enable work to begin on planning applications.
Confirming the long-term strategy for car-parking on site.
Continuing the development of a Full Business Case for the sport/leisure attraction that is affordable due to current economic conditions.
The completion of an Outline Business Case for the Energy Strategy.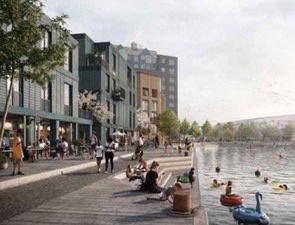 Credit: Cardiff Council
Russell Goodway, Cabinet Member for Investment and Development, said:
"Moving forward with our land disposal strategy will allow some momentum to grow on the completion of the residential and commercial plots at the International Sports Village.

"The ISV is a priority for the Council and, despite the challenges posed by the rising interest rates and inflation currently being experienced across the UK economy, we remain committed to our ambition of establishing the area as a premier UK sport and leisure destination."
Prior to this week's meeting, the report on the International Sports Village will be scrutinised by the Economy and Culture Scrutiny Committee, at 5pm on Tuesday July 11th.
Comment your thoughts below