Dr Rosie Oretti, Founder of Grounds for Good
A Penarth-based start-up has been named among the top food and drink producers globally this year, boasting a highly prized 1-star Great Taste award for its GFG Vodka and Vegan Dark Chocolate Bar.
Grounds for Good, founded in April 2021 with sustainability at mind, took part in the Guild of Fine Food, which offered 50 micro-producers the chance to put one new product in front of its expert panel of judges for free.
The bursary was aimed at micro producers who have never entered Great Taste before or have a new product which has never been entered before.
Established in 1994, Great Taste is organised by the Guild of Fine Food and is the world's largest, longest standing and most respected food accreditation scheme for artisan and speciality food producers.
All winners of a Great Taste award are given the opportunity to display their success on its victorious products with a badge, demonstrating to customers its exemplary status.
The bursary panel, which consisted of Adrian Boswell, buyer at Selfridges, industry commentator and food entrepreneur Mallika Basu, and PR & marketing expert AJ Sharp, selected the 50 most eligible entries.
Those successful then participated in the same rigorous blind-tasting process as all 14,195 food and drink entries, with judges unaware of their bursary status.
Overall in the 2023 awards, 4,088 products were awarded a Great Taste 1-star – 'food and drink that delivers fantastic flavour', of which included two for Grounds for Good.
Alongside, 1,568 were awarded a Great Taste 2-star – 'above and beyond delicious', and 248 were given a Great Taste 3-star - 'extraordinarily tasty food and drink'.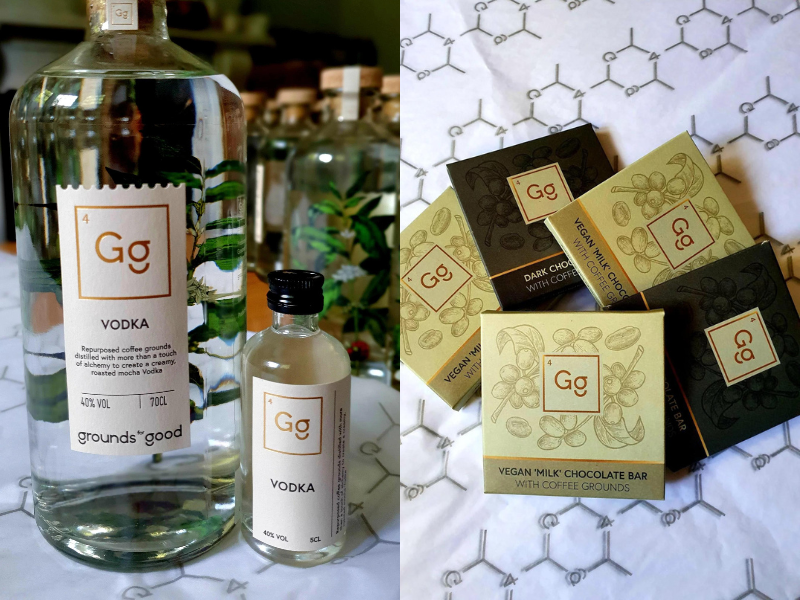 Grounds For Goods' winning products at Great Taste; GFG Vodka and Vegan Dark Chocolate Bar - Credit: Grounds For Goods
Grounds for Goods' GFG Vodka was a big hit with the Great Taste judges, which they described as "a clever idea" whilst also adding "there are definite coffee grounds in the aroma".
Made by re-distillation and vapour infusion of repurposed coffee grounds, the GFG Vodka was one of 5,904 products to receive a Great Taste award in 2023 - just 41.6% of the total products entered.
Dr Rosie Oretti, founder of Grounds For Good, said:
"We are thrilled to have won a Great Taste award for both our GFG Vodka and Vegan Dark Chocolate Bar. We have dreamt of this moment and are so proud to be adding the prestigious black and gold Great Taste badge of honour to both of these products. We started this journey during Covid lockdown with no more than an idea for reusing waste coffee grounds, so to be where we are today is truly a dream come true.
"Being recognised with a Great Taste 1-star means so much to independent producers such as myself, as it makes all the hard work and determination worth it! Great Taste is the most recognised accolade for taste and quality in the food and drink industry, so it's a huge moment for us!"
Christabel Cairns, Operations and Marketing Director at the Guild of Fine Food, explained:
"We're really proud to have launched the bursary scheme to celebrate 30 years of Great Taste discovering fantastic food and drink. There are some brilliant products that have more than held their own through the judging process. We're looking forward to supporting our 21 bursary winners with further initiatives later this year and following their progress after their success."
Comment your thoughts below