Credit: Studio Severn
Cardiff Bay's new outdoor food court, Tiger Yard, will throw open its doors for the first time this Thursday, 8th June, kicking off an initial 12-week summer run.
After months of work, Tiger Yard sees the site of the former Dr Who Experience in Cardiff Bay transformed into an outdoor food court, featuring six permanent shipping container kitchens and two purpose-built bars.
By using 22 rainbow-coloured shipping containers to create the bars, kitchens, toilet blocks and some seating areas, the court is now ready to welcome a total of 1,000 diners at a time.
The new venture comes from the same team behind Cardiff's successful entertainment venue, The DEPOT.
Traders in residence for the summer season have also been confirmed – the venue will play host to:
FIRE & FLANK – dishing up delicious steaks and sides; winners of 'Best Main Dish' at the British Street Food Awards.
THE ROCK & SCALLOP – serving up gourmet seafood, and a sneak peek into what will be available at their brand-new restaurant in Pontyclun (coming soon).
MEATING POINT – offering authentic Greek street food; classic souvlaki and gyros.
DIRTY BIRD – tossing out gourmet fried chicken with a cult following, as seen at The DEPOT and Par 59.
TERRY'S TACOS – taking tacos to another level; try the smashed beef taco made with 100% Welsh beef, American cheese and bacon mayo.
Additionally, there will be one guest trader taking over a sixth kitchen on a weekly basis - meaning there will always be something new to try.
After the opening night on 8th June, Tiger Yard's weekly opening hours will be as follows:
Wednesday: 17:00 – 22:00
Thursday: 17:00 – 22:00
Friday: 17:00 – 23:00
Saturday: 11:00 – 23:00
Sunday: 11:00 – 20:00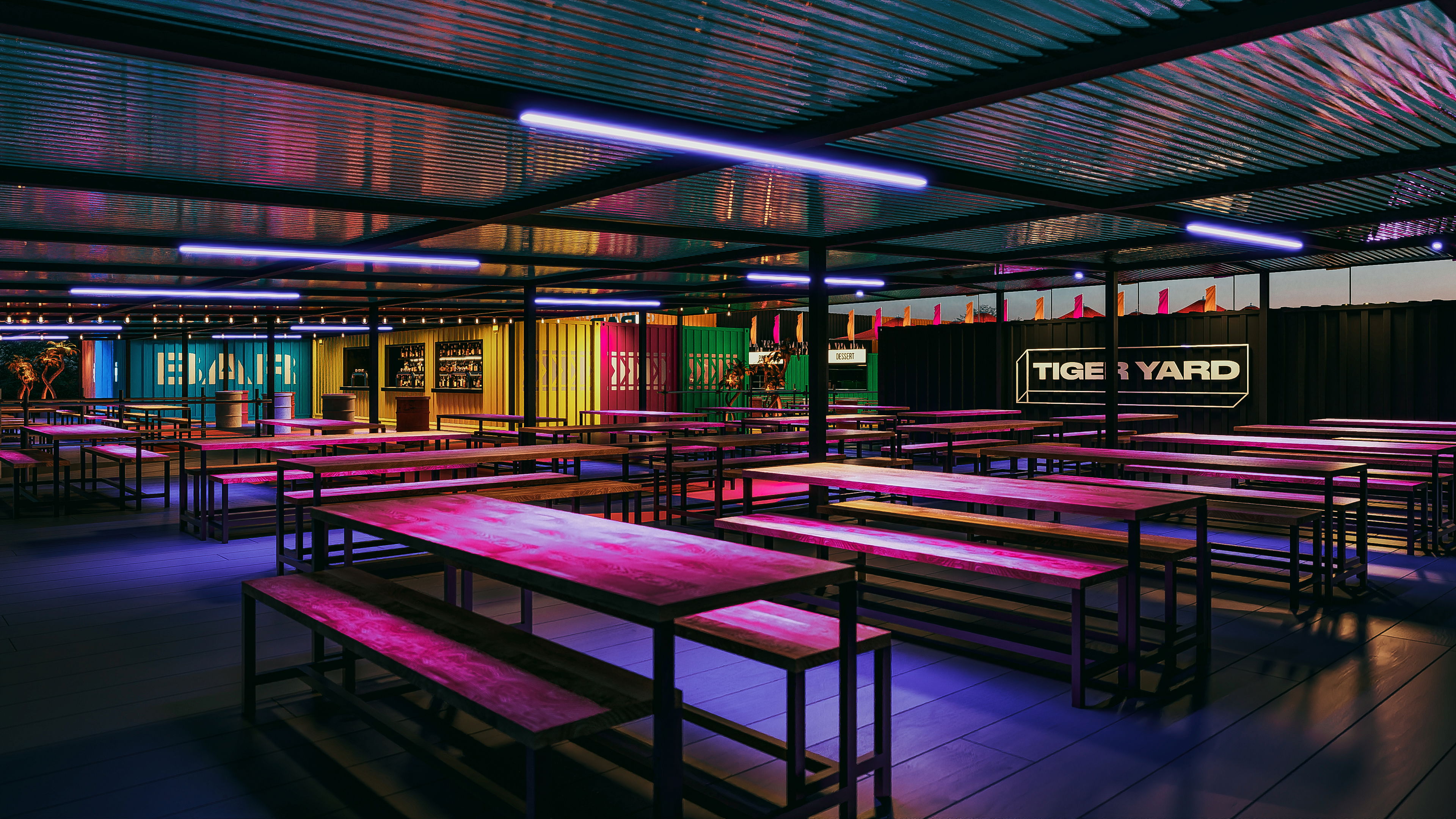 An inside-view of Tiger Yard - Credit: Studio Severn
Peter Cro, Director at The DEPOT Group, explained:
"We are committed to providing a vibrant, diverse, and memorable experience at Tiger Yard and can't wait to bring something different – and independent - to Cardiff Bay, which has long been dominated by bigger chains. The whole team is looking forward to a busy summer by the water."
Cardiff-based designers Studio Severn, who worked with The DEPOT team to create the space, said:
"Tiger Yard has been great fun to work on and develop with the team, especially as it enhances the independent food scene in the Bay. It was important to make an impact not only with the scale of the venue - but also to ensure that brand personality shines through and provides an exciting and vibrant space to lose a few hours."
Comment your thoughts below