A mural of Wales' first black headteacher, Betty Campbell MBE, has been painted on the front of Mount Stuart Primary School, the school that she dedicated her life to for 34 years - from 1965 to 1999.
Betty, who died in October 2017, was born in the Butetown area of Cardiff in 1934, and was brought up by a Barbadian mother and Jamaican father, until he died in 1942, in the poverty-stricken area of Tiger Bay.
When at school, Campbell confessed to her headmistress that she too would like to be a teacher one day. However, she was told:
"Oh my dear, the problems would be insurmountable."
After that moment, she recalls going back to her desk and crying. Betty said:
"That was the first time I ever cried in school. But it made me more determined; I was going to be a teacher by hook or by crook."
In 1960, she became one of just six female students to attend Cardiff Teacher Training College, as she heard they were admitting women for the very first time.
Her dream's then came true, as she landed her first teaching role at a school in Llanrumney, before she then returned to her home-area of Butetown when a position opened up for her.
"They hadn't seen a black teacher before. It was as if you could do a job, but if you're black you're weren't quite as good."
Betty Campbell became a pioneer in multi-cultural education, diversity and a founder of Black History Month, putting the teaching of black history and culture on the school's curriculum.
She also served as a councillor for Butetown from 1999 until 2004.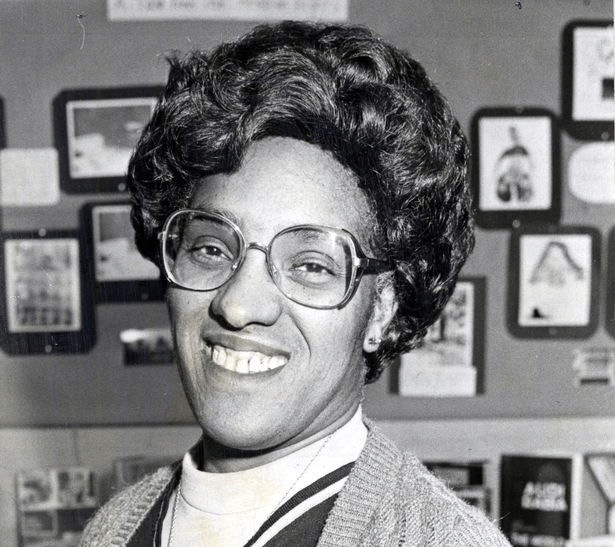 Betty Campbell MBE - Credit: Wales Online
Children at Mount Stuart Primary School have learned about Mrs Campbell's legacy and wanted something at the school site to remember her, which is exactly what the mural has done.
With support from the Governing Body and funding from Cardiff University, artist Bradley Rmer who painted the iconic 'My City, My Shirt' in the city centre was commissioned to paint the 10-metre tall mural.
Two students at the school, Aqeel and Joudi said:
"It reminds us that Mrs Campbell was the first Black headteacher in Wales, she inspires us to never give up and follow our dreams no matter what your skin colour is or what is in your way.

"This mural is like a cherry on the top of the school! If visitors come they will admire it!"
The mural of Betty Campbell comes just 18 months after a bronze statue honouring the headteacher was unveiled in Cardiff's Central Square, which is still very much admired by to this day.
Headteacher at Mount Stuart Primary School, Helen Borley, said:
"We are immensely proud of our school's connection to Mrs Campbell as Mount Stuart's first headteacher and Wales's first Black Headteacher. She is a continued inspiration to us and our community.

"Mrs Campbell's legacy is a powerful message of what you can achieve given determination and drive."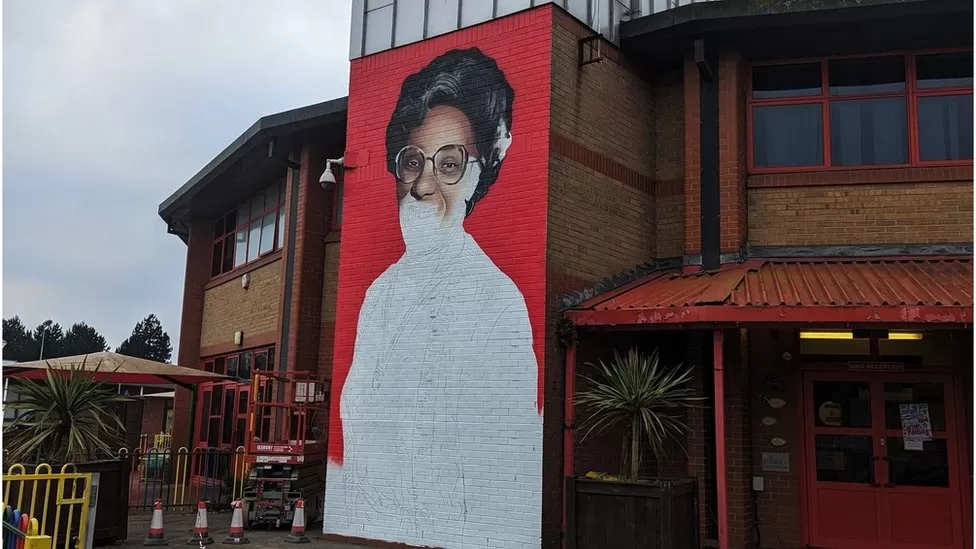 The mural when nearing completion - Credit: Mount Stuart Primary School
Cabinet Member for Education, Employment and Skills, Councillor Sarah Merry said:
"Betty Campbell is an iconic figure who's approach to education and diversity has had an outstanding impact on the people of Butetown, Cardiff and beyond.

"I know that many children from the school helped in the design process for the Betty Campbell statue in Cardiff's Central Square and now they have they own reminder of Betty, taking pride of place at the school. This wonderful painting is a reminder to the whole community of the local heritage and the significant part Betty played in it."
Betty was also awarded an MBE in 2003 for her services to education and community life.
Comment your thoughts below