The first modular units in Cardiff, part of an innovative pilot scheme to help tackle an immediate shortage of affordable housing, have arrived on the former Ferry Road Gasworks site in Grangetown.
The two modular units are part of the initial phase to create 155 pre-fabricated, highly energy-efficient properties, with the hope of alleviating pressures on homelessness services and the availability of temporary accommodation in the city.
With financial support from the Welsh Government's Transitional Accommodation Capital Programme, Cardiff Council is working with development partner Wates to deliver the new homes, which will be located close to the Yr Hafan family homelessness centre.
Cabinet Member for Housing and Communities, Councillor Lynda Thorne, said:
"Our homelessness and housing services continue to experience exceptionally high demand for assistance. This innovative solution to the pressures we are facing enables us to boost our supply of accommodation quickly, in considerably less time than via traditional building methods.
"It's really pleasing to see the first units arriving on site. The development will gather pace over the coming weeks and we expect residents to be moving in around early October."
The 155 new single-storey homes, a mixture of one, two, three and four bedrooms, will be bright, spacious and highly energy-efficient, which the council say is in line with their One Planet strategy.
The units are being supplied by Daiwa House Modular - the same company that supplied units for modular development at Crofts Street.
Also distributing is Beattie Passive - the supplier of units e at Yr Hafan and the Single Assessment Centre in Riverside.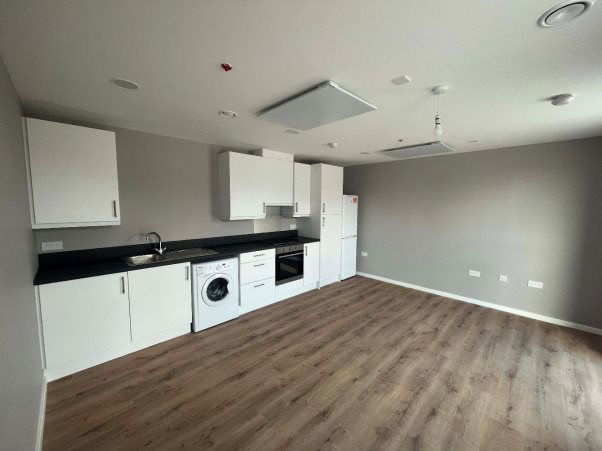 A spacious kitchen is included in the units - Credit: Cardiff Council
As part of a citywide housing development programme to deliver 4,000 new homes over the coming years, longer term plans are now in place to develop the wider Gasworks site to provide around 500 new homes, including council housing.
Edward Rees, Residential Regional Director at Wates, mentioned:
"It has been very rewarding to see the arrival of the first units on site, as these represent more homes for people who are currently without a roof over their head or suffering in substandard accommodation. The modular system has given us all the ability to provide much needed temporary accommodation for those who desperately need it, in a much faster and more innovative way than traditional building methods."
All modular units that will be installed at the Gasworks site for temporary accommodation are demountable, meaning they can be moved to other areas of the city in response to future need.
Comment your thoughts below