City Hospice, Cardiff's local hospice, has teamed up with Cardiff Council to plant and maintain flower beds in popular parks across the capital city, creating an opportunity for communities to reflect and remember loved ones.
The first Celebration of Life flower bed launched in Cardiff's Roath park, by the West entrance, and aims to support communities with their grief and wellbeing in a dedicated natural space for remembrance.
At the official launch, City Hospice welcomed The Right Honourable Lord Mayor of Cardiff, Graham Hinchey, and the Lady Mayoress, Mrs Anne Hinchey, alongside Cabinet Member for Culture, Leisure and Parks, Councillor Jennifer Burke.
Councillor Graham Hinchey, who was appointed Lord Mayor back in May 2022, said:
"I first met the team from City Hospice during the wonderful Forever Flowers campaign at Cardiff Castle last year and it's an honour to be invited to the launch of their official Celebration of Life flower bed.

"City Hospice holds a special place in my heart, and this project is such a wonderful opportunity to bring people together to remember their loved ones."
Pugh's Garden Village, who have been offering extensive horticultural expertise and helping gardeners for over 65 years, have kindly provided signage for the charity's flower bed by Roath Park Lake.
This is the latest show of support for City Hospice by the family-run garden centre, of whom have previously supported Forever Flowers and the Sparkle Walk, as well as hosting their own events.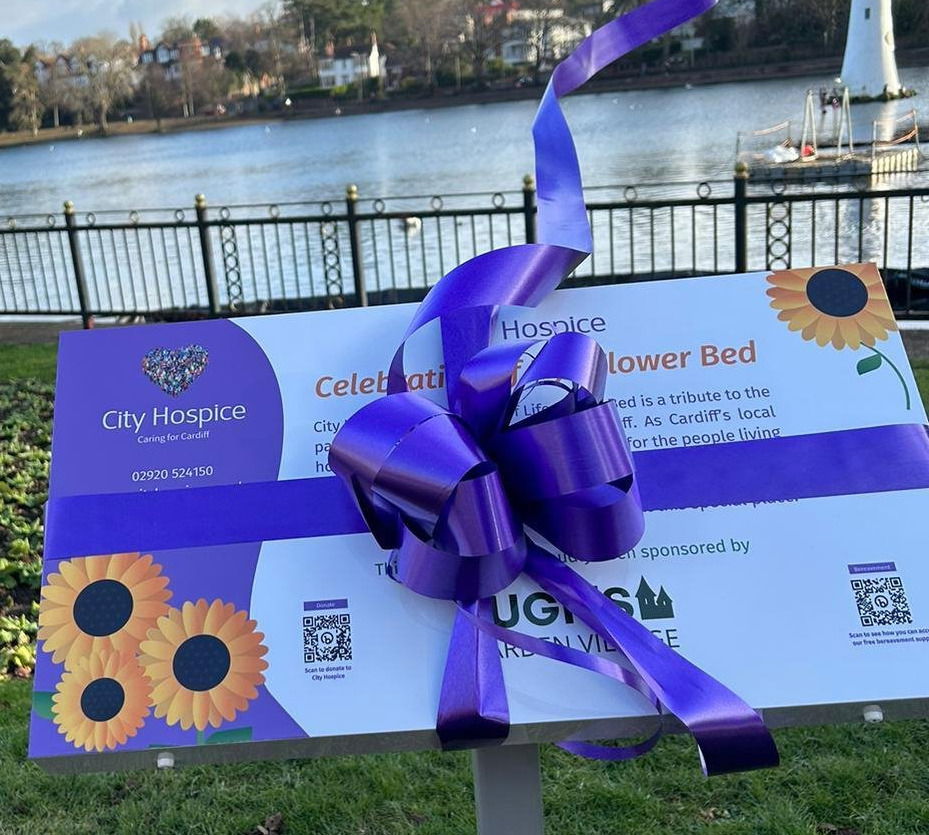 The opening of the Celebration of Life flower beds campaign at Roath Park - Credit: City Hospice
Marketing & Operations Director at Pugh's Garden Village, Nicola Pugh, said:
"We at Pugh's are huge advocates that gardening and being in nature is a powerful antidote to grief, pain and loss. We have been proud supporters of City Hospice for many years and the work they continue to do has a massive impact, not just personally to our family but on the many people that visit Pugh's across all generations. We are proud to sponsor this wonderful initiative in such a special place for so many people, to enable them to reflect and remember loved ones.

"The Roath Park Lake flower bed is being supported by students at Cardiff High School who with be assisting with maintaining the flower bed."
Cabinet Member for Culture, Leisure and Parks, Councillor Jennifer Burke, said:
"Spending time outdoors in parks and green spaces is proven to improve wellbeing and when the first flowers burst into life in the spring, the new Celebration of Life flowerbeds will provide park visitors who have lost a loved one with a moment of reflection, as well as being beautiful additions to our award-winning parks.
WATCH: Richard Jones supports City Hospice's Forever Flowers - Credit: City Hospice/YouTube
"City Hospice is the only provider of home-based specialist palliative care in the capital. The charity provides care and compassion to patients with terminal or life limiting illnesses, as well as counselling and support services for their families."
Comment your thoughts below