Credit: @tomaesh/Instagram
Following the impact on the financial markets of the mini-budget, new research from Better.co.uk reveals the most searched concerns of UK property buyers and homeowners.
The research finds that residents in Cardiff are the most concerned with high mortgage rates, with Google searches for the region skyrocketing by a huge +2,614% (Nov 21 – 22).
A sentiment analysis tool was then used to reveal how negative the conversation around these key terms is online. This shows a +303% increase in negativity regarding mortgage rates conversation online.
Delving into their own customer mortgage applications last year, Better.co.uk has found out that just 4% were received from residents in Wales, potentially highlighting wider concerns for the country which seems to be focused on the fluctuating mortgage rates.
This was also found to be the biggest concern for Welsh residents in Swansea and Newport, with searches increasing +829% and +878% year-over-year respectively.
This tracks with the rest of the UK where overall searches surrounding mortgage rates have increased by +508%, up to 110,000 average monthly searches. Crucially, 60% of all mortgage rate searches have a negative sentiment.
Sam Amidi, Head of Mortgage Sales at Better.co.uk, has offered advice for those in Wales worried about mortgage rates and selling your home. He said:
"Mortgage rates are expected to keep increasing in 2023 as the Bank of England attempts to manage inflation by raising the BofE base rate. It's been speculated that the base rate, currently at 3.5% could rise as high as 4.8% in the third-quarter (Q3) of 2023. Mortgage rates may finally begin to decrease again in 2024.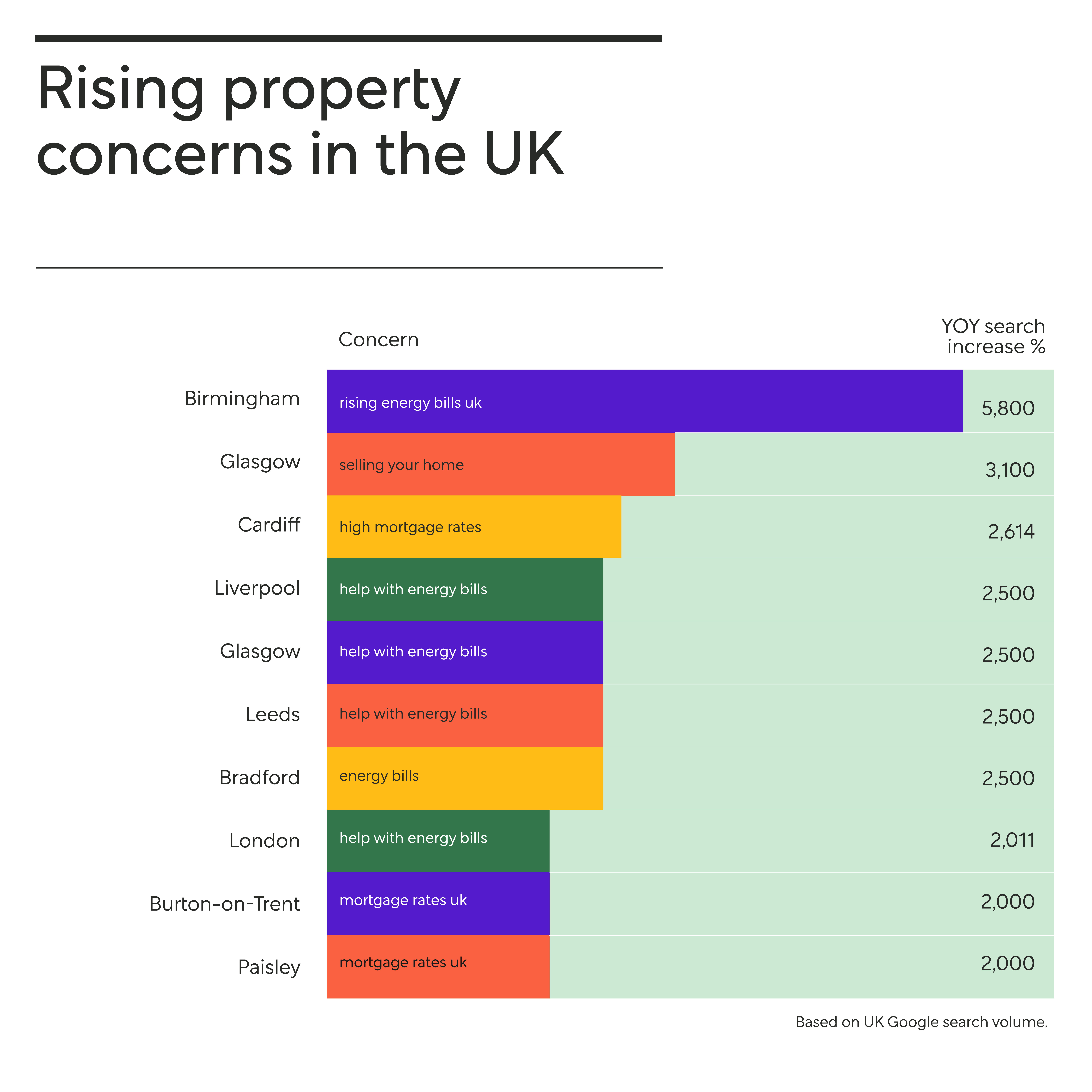 Graph displaying rising property concerns in the UK - Credit: Better.co.uk
"With mortgage rates on the rise and repayments becoming more costly, buyers should ensure they shop around for the right mortgage deal. Potential buyers should also consider that they put down as big a deposit as possible, as this will increase their access to better mortgage deals with lower interest rates."
Those most affected by increasing mortgage rates are:
First-time buyers, as the already hefty cost of a property, is compounded with expensive monthly payments and the cost-of-living crisis
Those coming to the end of a low fixed term rate; anyone fortunate enough to have locked into a low mortgage rate in the last few years will face the stark difference in interest rates when they go to remortgage.
Anyone on standard variable rate mortgages as mortgage interest rates are subject to change in response to the market and the base rate.
Those with lower household incomes will feel the strain when it comes to higher mortgage rates and repayments. This on top of the cost-of-living crisis will put financial pressure on households with lower incomes.
Mr Amidi also added:
"Rising interest rates will make it more expensive to borrow and difficult to secure an affordable mortgage deal. This may deter many homebuyers from looking to buy in the current market.

"As mentioned above, it is also expected that house prices will drop, meaning that sellers may not get what they think their home is worth."
The full research findings and an expert advice guide can be found HERE.
Comment your thoughts below