Credit: Tennis Wales
The city of Cardiff made history last Friday (16th June) when playing host to Wales' first UK-wide LGBTQ+ tennis tournament, just ahead of the Pride Cymru weekend, which saw masses of people lining the streets in celebration.
The competition was run by tennis club The Cardiff Baseliners, who train at the city's Heath Park weekly.
In March 2022, the club was set up with the main aim of providing an environment by which all members of the LGBTQ+ community across Cardiff and South Wales can access tennis, with confidence.
Since then, they have even secured sponsorship from well-known local pub, The Golden Cross — complete with a new kit to show off.
Supported by Tennis Wales, the 'Court My Attention' tournament showcased the skills of LGBTQ+ tennis clubs from all across the country — from the North London Lob-sters, to the South London Smashers and the Newcastle based Geordie Grand Slammers.
From 10am-3pm at Cardiff Metropolitan University, the tie-break-tens tournament presented players with a fast-paced challenge, played in singles or doubles, leading to a semi-final and a final — with those who were victorious then receiving trophies at the end of the day.
Neil Roberts, Cardiff Baseliners Chair and committed player, said:
"Although the actual tournament is important, as an LGBTQIA+ Club, for us it's more about celebrating, putting on our pride colours and having a hit-around in a fun, social setting.

"It has been fantastic to see the club grow and develop over the last year. Not only are we able to provide a safe space for those wanting to pick up a racket, but we have become part of a wider LGBTQIA+ sports network across South Wales."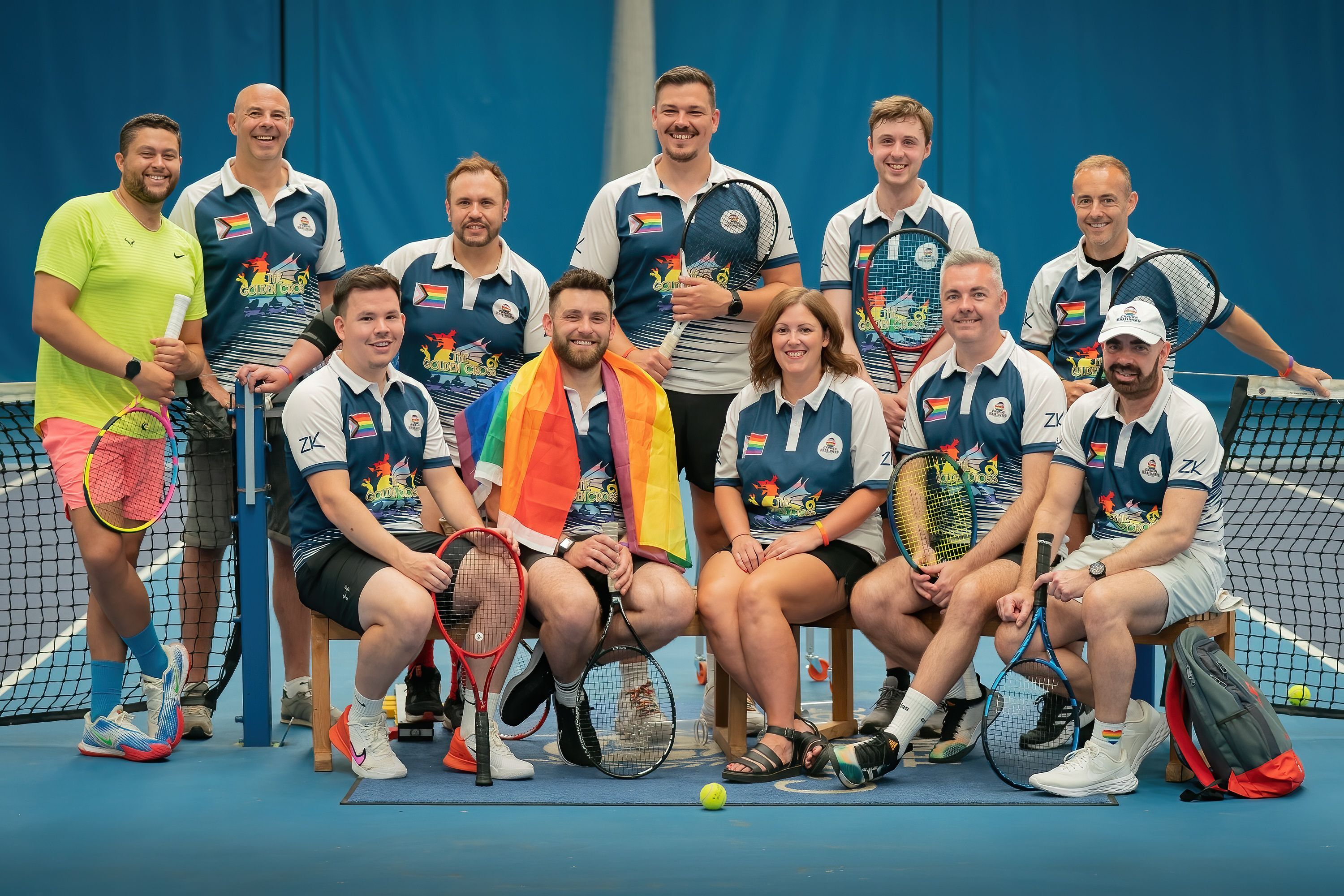 The Cardiff Baseliners at the event on Friday
Roberts also added:
"I encourage anyone in Cardiff who is curious about playing tennis in a LGBTQ+ inclusive setting to get in touch — we'd love to see you at one of our Saturday training sessions."
Simon Johnson, CEO of Tennis Wales, said:
"We are extremely proud to be supporting the Cardiff Baseliners as they continue to develop their membership base and help us 'open up' tennis to more players across Wales."
The tournament was then followed by a social event at The Golden Cross - the Baseliners' partner venue - where one of their kits was donated for display.
Comment your thoughts below