City Hospice, a well-known charity which provides community palliative care to the people of Cardiff, has organized its annual 10km walk for later this month, perfect for those wanting to remember their loved ones.
The organisation's Sparkle Walk will return for its fourth year on Friday, 29th September, hosted by Smooth Radio presenter Jason Harrold, who was born and raised in the Welsh capital.
Suitable for families, friends, colleagues and anyone over the age of eight, the walk will begin at Insole Court in Llandaff, before making its way to City Hospice in Whitchurch and then back again.
At the halfway mark, participants will be greeted with refreshments and will have the opportunity to leave a heartfelt message for a loved one in the charity's very own memory garden.
All money raised at the walk will go further thanks to The Waterloo Foundation, who have pledged to match fund every £1 raised up to a total of £15,000.
Karen Vaughan, who will be taking part in this year's Sparkle Walk, said:
"City Hospice's Sparkle Walk is a very special event for myself and my family. This year marks an unbelievable five year milestone of losing a close friend and wonderful godfather to my daughter. The walk is an amazing and poignant way to remember a loved one and see them shine bright in the night sky.

"I will be rejoining and walking with a group of ladies who met four years ago during the first Sparkle Walk in 2019. It will be an emotional and moving evening, but I also know that by attending this incredible event, I will help raise very important funds for the hospice."
Watch: Sparkle Walk 2022 - City Hospice/YouTube
Liz Booyse, Chief Executive at City Hospice, said:
"We are looking forward to everyone coming together to sparkle through the streets of North Cardiff and let the memories of their loved ones shine as our Sparkle Walk returns for a fourth year.

"This is always an important date in the calendar for our community and brings so many people together in such a special way."
Also participating in the walk will be Beth, who will be doing so in memory of her husband Pete.
In 2018, Pete was diagnosed with stage 4 lung cancer and sadly passed away earlier this year.
Towards the end of his life, City Hospice provided Pete with specialist palliative care and supported his family at a very difficult time for them.
Beth explained:
"Sparkle Walk is an opportunity for us as a family to remember Pete and give something back to the amazing support City Hospice provides. We set up a JustGiving page and we are already blown away with the amount of donations we've received. It will be such a special evening for my children to walk in memory of their dad all whilst raising vital funds."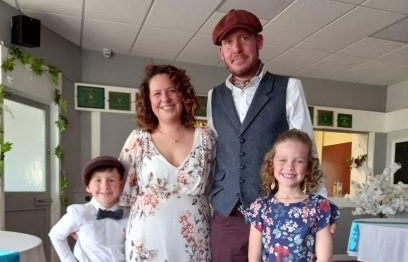 Beth, Pete and children Ella and Charlie
If you would like to take part in the walk, visit HERE for tickets and further information.
Comment your thoughts below