Credit: Cardiff Hearing
An award-winning audiologist has sent out a plea to anyone struggling with hearing loss, following a new study that found wearing hearing aids could help reduce the risk of dementia by up to 42%.
Sonja Jones, Clinical Audiologist and owner of Cardiff Hearing, was speaking after the survey, saying:
"There are approximately 11 million people in the UK with hearing loss, which equates to over 60,000 people in Cardiff alone. Many of these people have never sought the help of an audiologist for their hearing.

"This study, along many others before it, is showing strong evidence that untreated hearing loss can lead to cognitive decline. My plea to anyone over 50 is to ensure you have a regular hearing check every couple of years, especially if you have started to notice you are missing parts of conversations or other sounds."
The study, first published by The Lancet on 13 April, looked at data from 437,704 people taking part in the UK Biobank. The average age was 56, and the mean follow-up time was 12 years.
According to charity Alzheimer's Society, there are currently around 900,000 people living with dementia in the UK, which is projected to reach 1.6 million by 2040, therefore continuing to be one of the nation's biggest health threats.
Sonja, who fits hearing aids in both Ely and Taffs Well, added:
"Wearing hearing aids can help to reduce the risks of dementia by improving hearing and making it easier for people to communicate. It is clear to me that this study highlight's the urgent need for the early introduction of hearing aids when someone starts to experience hearing loss."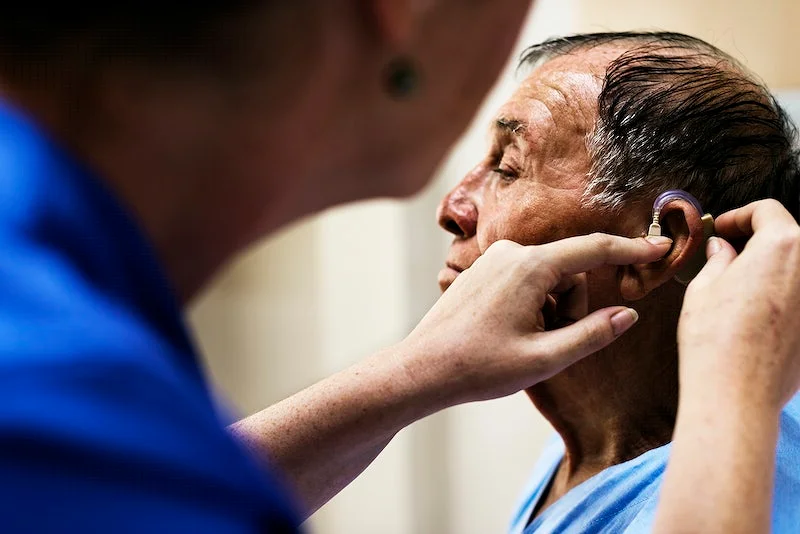 Credit: Rawpixel
The hypothesis, known as cognitive overload, asserts that the brains of adults with hearing loss have to work harder to understand the same information as people with average hearing, which may put such a profound strain on the brain that it cannot perform other functions as effectively.
In order to encourage anyone struggling with their hearing to seek help, Sonja at Cardiff Hearing has decided to run a Hearing Care Day from her clinic in Ely.
This will take place on Wednesday, 3 May, with qualified audiologists providing comprehensive hearing assessments and offering people the chance to have a try with a pair of hearing aids.
The event is part of Deaf Awareness Week (Mon 1 - Sun 7 May), a yearly UK-wide recognition week which aims to highlight the impact of hearing loss on everyday life and increase visibility and inclusion for hearing-impaired people.
Appointments for Sonja's clinic are available between 9am-5pm and can be booked by calling 0292067625 or visiting www.cardiffhearing.co.uk.
Comment your thoughts below