Tours of all seven of Cardiff's historical Victorian and Edwardian arcades have officially been launched, showcasing an eclectic mix of independent businesses and renowned brands, whilst also boasting a collection of tales, architectural wonders, and gastronomic experiences.
FOR Cardiff, the city's Business Improvement District, have teamed-up with experienced tour operators Loving Welsh Food and Fogo's Free Tours, with the initiative aiming to celebrate the iconic status of Cardiff as the "City of Arcades".
Carolyn Brownell, Chief Executive of FOR Cardiff, said:
"We are delighted to support the launch of two new Cardiff walking tours designed to showcase the city's remarkable history and vibrant food scene. Building on Cardiff's identity as The City of Arcades, we hope these new tours will attract visitors and boost local business."
The first City of Arcades Historical Walking Tour took place on Saturday, 1 July, taking visitors on a captivating 2-hour journey through the facinating seven arcades and Cardiff's indoor market.
On the day, Eugene Fogarty, owner of Fogo's Free Tours and winner of the Visit Wales Best Told Story Award 2023, shared facts, stories, and pictures of the arcades from the Victorian era to the present.
She explained:
"It has been fascinating to discover the hidden history of the arcades from The Bear Shop to Cardiff's lost arcades. I hope this tour will encourage more people to appreciate the importance of these historic landmarks."
The second available tour part of the new initiative is the Tasting Tour, Loving Welsh Food's 4.5 hour long, guided walking tour that will take visitors on a leisurely stroll around the city centre, passing through the historic arcades and by iconic landmarks - costing £72.50 per person.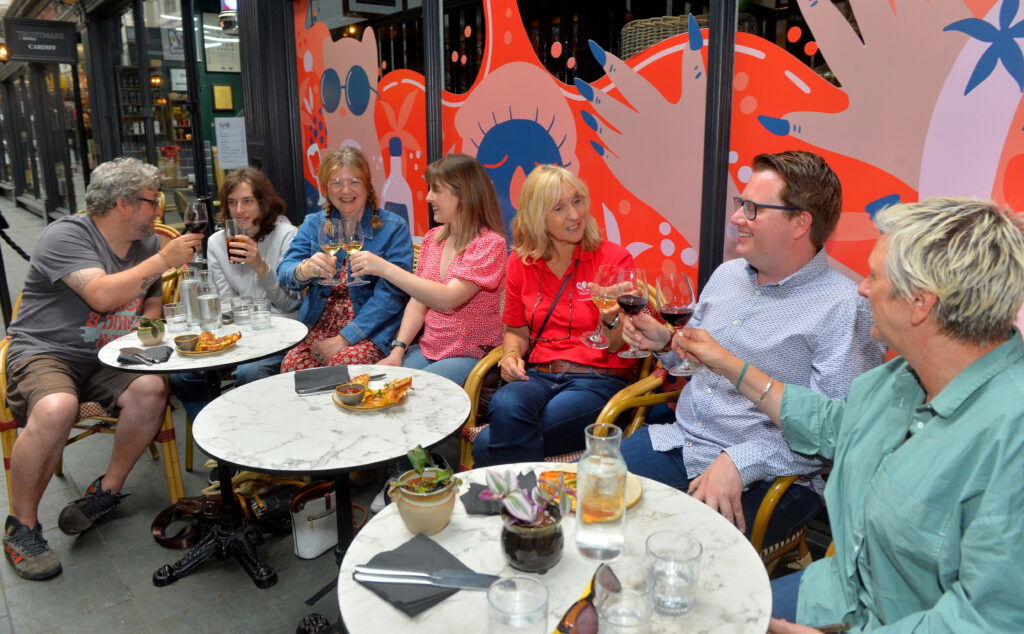 Attendees of the Tasting Tour outside 'Nighthawks Wine Bar', located in the much-loved Castle Arcade - Credit: FOR Cardiff
Sian Roberts, owner of Loving Welsh Food, said:
"The City of Arcades Tasting Tour is more than a food & drink tasting – it's a culinary tour with stories, trivia and facts that give visitors a true taste of Cardiff. Thanks to funding from FOR Cardiff, more people will get to discover Cardiff's beautiful arcades."
Also included in the both tours are exclusive discounts at Parador 44, Park Plaza and Hotel Indigo Cardiff, perfect for those interested in extending their stay in the Welsh capital.
All tickets for the experience can be secured in advance via the hosts' individual websites:
Fogo's Free Tours: fogosfreetours.com
Loving Welsh Food: lovingwelshfood.uk
Comment your thoughts below