Earlier this week, Fitzalan High School in the Leckwith area of Cardiff opened the doors of its brand-new home to pupils and staff, as it marks the start of the 23/24 term.
The building, located on land next to the athletics stadium, is designed to accommodate upwards of 1850 children, and was first given planning permission in November 2020.
Construction on the £64 million project then started four months later in March 2021, and has closely involved ambassadors from the school who have regularly visited the site throughout its development, and then reported progress back to other students.
Included at the impressive three-storey high school is a community swimming pool and four Multi Use Games Areas (MUGA's), alongside two 3G pitches available for rugby, football and hockey.
The school is jointly funded by the Welsh Government and Cardiff Council, making it the city's latest scheme to be delivered under the Sustainable Communities for Learning Programme.
Year 7 pupil Nibras has prasied the new school, saying:
"I feel proud to be the first year 7's to ever come here and I feel like it's an accomplishment to be one of the first pupils to see the school.

"I like how it's been built, its unique, light and spacious. The facilities all look great but I'm mostly looking forward to using the science labs. The school cost a lot of money and I feel privileged to have the opportunity to come here."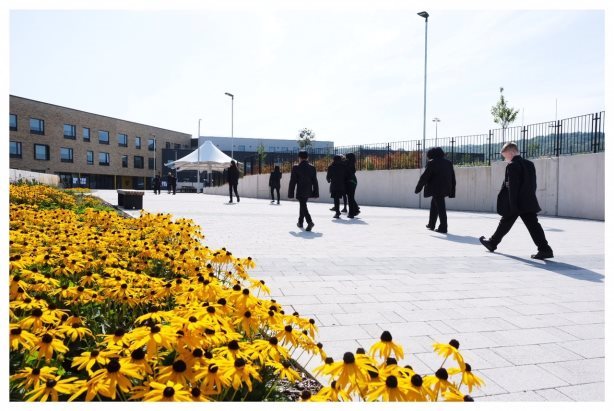 Fitzalan will hold 1850 students - Credit: Cardiff Council
Sarah Merry, Cardiff Council Deputy Leader and Cabinet Member for Education, explained:
"This is a hugely exciting chapter in the history of Fitzalan High School. I have enjoyed closely following the progress of the development despite the challenges caused by the pandemic, from initial design to seeing first-hand, the impressive new building that is welcoming pupils this week.

"The delivery of this state-of-the-art secondary school is an excellent example of an urban and modern school building which will provide current and future generations with excellent facilities and quality learning environments. In addition, it will create opportunities for the whole community and is a significant boost for the local area."
Assistant Headteacher and New School Coordinator, Jo Kemp, said:
"We are delighted to be welcoming pupils to their brand-new school this week. After securing some of our best ever A-Level and GCSE results this year, we are really excited to see what we can achieve in such a fantastic, fit for purpose environment.
"We feel justifiably proud that we have worked so well with the Council, Welsh Government and the project team from Kier (Construction) to get us to this point and we are really grateful to everyone for their input."
Comment your thoughts below